Team Overview
In 2024, we are excited to announce that NBBA will be participating on the Girls Under Armour Rise Circuit! The Girls UA Rise is a complimentary circuit to the GUAA, focusing on high-level competition and exposure to college coaches as its core purpose. The league consists of three age groups: 17U, 16U, and 15U. There are two league sessions with the season culminating at the Girls UA Rise Championships in July.
The Girls UA Rise team will practice two days per week.
These practices are MANDATORY if you are participating on a showcase team and are very important for all players to attend.
Participation on a Girls UA Rise Team means there is a commitment to traveling throughout the country during the spring and summer seasons. We will be traveling to all three (3) Girls UA Rise Sessions. Dates and Locations are TBD
All travel is paid for by each player's family. Travel costs are NOT included in the season dues.
Costs for the UA Rise teams cover tourney entry fees, gym rental, liability insurance, coaching stipends, equipment and all administrative costs.
TEAM COST: TBD
*Player travel is NOT included in the team cost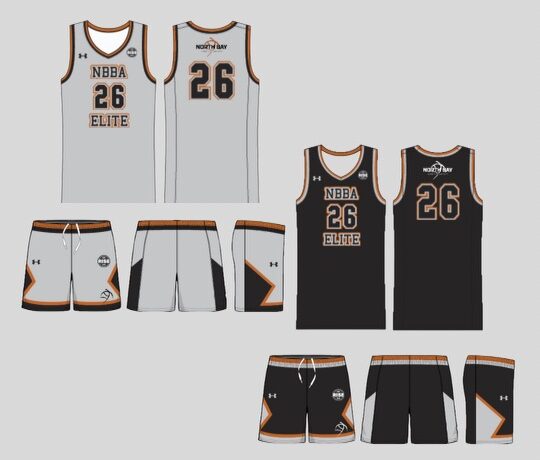 NBBA Alumni at the Next Level
| First Name | Last Name | School | Division | Year | HS / Previous Schools | HS Class |
| --- | --- | --- | --- | --- | --- | --- |
| Katherine | Podoll | Macalester College | D3 | | Archie Williams | 2017 |
| Zoe | Stachkowski | Cal Poly SLO | D1 | | Redwood HS / Irvine Valley | 2018 |
| Camryn | Figueroa | Dominican University | D2 | | Cloverdale HS | 2018 |
| Shasta | Parker | Cal State San Marcos | D2 | | San Marin HS / University of Portland | 2018 |
| Julianna | Campas | Chapman University | D3 | | Novato HS | 2018 |
| Kayden | Korst | Cal State San Marcos | D2 | | San Domenico | 2019 |
| Gabby | Beltran | Lewis & Clark | D3 | | Redwood HS | 2019 |
| Nicole | Gleeson | Napa Valley College | JUCO / D2 | | Vintage HS / Dominican University | 2019 |
| Sheriene | Arikat | Sonoma State | D2 | Junior | Petaluma HS / Occidental College / Santa Rosa JC | 2020 |
| Kylie | Horstmeyer | University of San Diego | D1 | Junior | Redwood HS | 2020 |
| Alexa | Greenwood | Cal Lutheran | D3 | Junior | Marin Catholic | 2021 |
| Maizy | Armstrong-Brown | Napa Valley College | JUCO | | Napa HS | 2021 |
| Alex | Ditizio | Santa Rosa JC | JUCO | | St. Vincent de Paul | 2021 |
| Taylor | Iacopi | Santa Rosa JC | JUCO | | Petaluma HS | 2021 |
| Rose | Nevin | Santa Rosa JC | JUCO | | Petaluma HS | 2021 |
| Maja | Cykowska | University of Arkansas - Fort Smith | D2 | Freshman | San Domenico | 2022 |
| Sarah | Tait | Butte College | JUCO | Sophomore | Piner HS | 2022 |
| Lailah | Carey | Cal State East Bay | D2 | Freshman | San Marin HS | 2023 |
| Hannah | Golan | Point Loma Nazarene | D2 | Freshman | The Branson School | 2023 |
| Julie | Martinez | Santa Rosa JC | JUCO | Freshman | San Marin HS | 2023 |
| Keeley | Wright | Southern Oregon | D2 | Freshman | San Marin HS | 2023 |