Team Overview
In 2024, we are excited to announce that NBBA will be participating on the Under Armour Rise Circuit! The UA Rise is a complimentary circuit to the Under Armour Next Platform, focused on high-level competition and exposure to college coaches as its core purpose. The league consists of 48 teams at each age group: 17U, 16U, and 15U. Each team plays 12 regular season games leading in to a single-elimination championship bracket to crown the UA Rise Champion.
The Boys UA Rise Teams will practice two days per week.
These practices are MANDATORY if you are participating on a showcase team and are very important for all players to attend.
Participation on a UA Rise Team means there is a commitment to traveling throughout the country during the spring and summer seasons. We will be traveling to all three (3) UA Rise Sessions. Dates and locations of each session are TBD
All travel is paid for by each player's family. Travel costs are NOT included in the season dues.
Costs for the UA Rise teams cover tourney entry fees, gym rental, liability insurance, coaching stipends, equipment and all administrative costs.
TEAM COST: TBD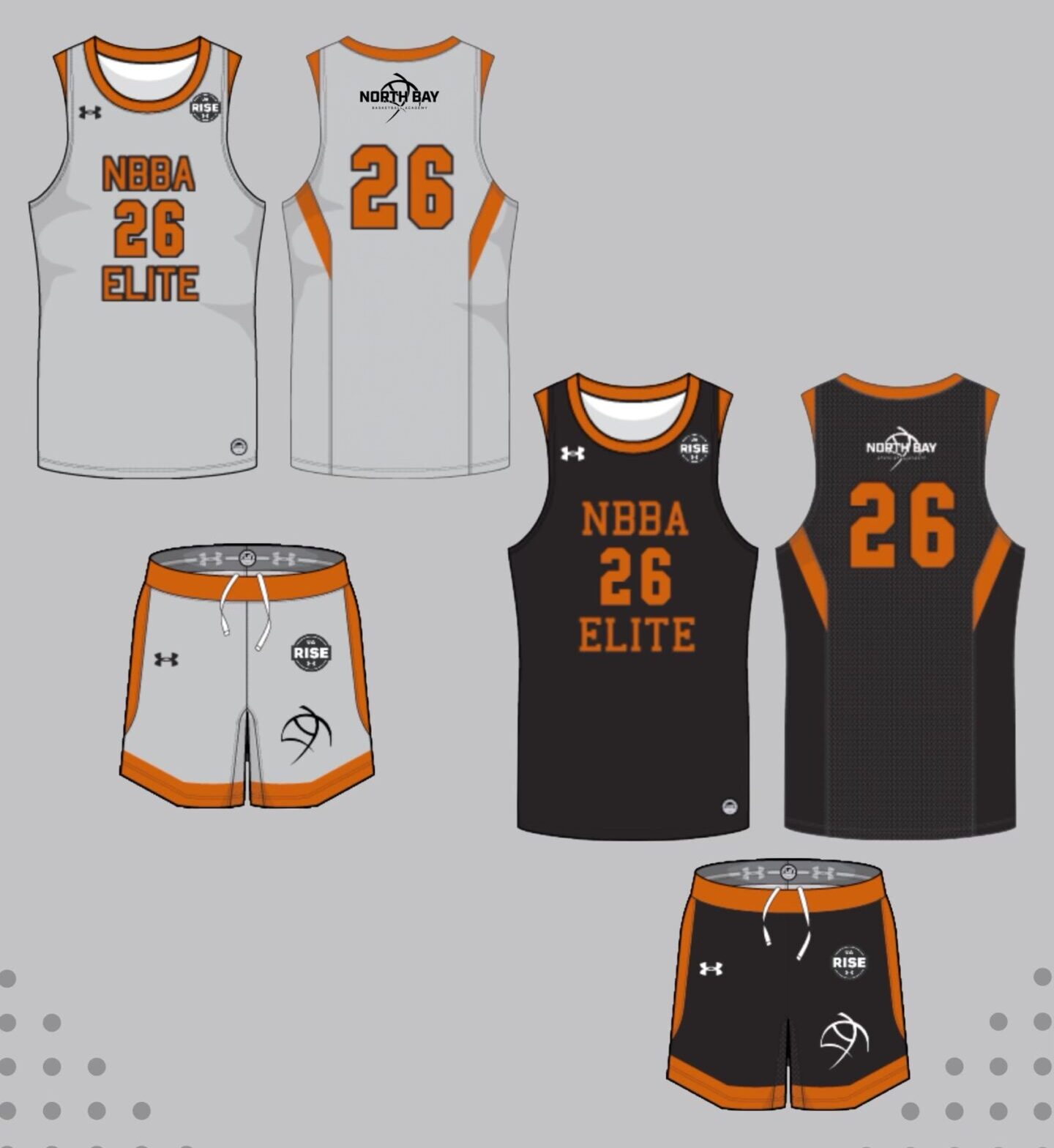 NBBA Alumni at the Next Level
| First Name | Last Name | School / Pro / National Team | Division | Year | HS / Previous Schools | HS Class |
| --- | --- | --- | --- | --- | --- | --- |
| Noah | Forrey | Beloit College | D3 | | Petaluma HS | 2013 |
| Ilon | Zur | UC Santa Cruz | D3 | | Summerfield Waldorf HS | 2013 |
| Noah | Everly | Sonoma State | D2 | | San Marin HS | 2014 |
| Aren | Ulmer | University of West Georgia | D2 | | St. Mary's College HS | 2015 |
| Jasper | Verduin | Chapman University | D3 | | Archie Williams HS | 2015 |
| Colton | Wirth | Menlo College | NAIA | | San Marin HS | 2015 |
| Joe | Hoeup | Cambodia National Team | NATIONAL | | Elsie Allen HS / Hardin-Simmons University | 2015 |
| Keith | Smith | GBA Lions (Czech Republic) | PRO | | San Ramon Valley HS / VMI / Cal Poly SLO | 2015 |
| Jordan | Ratinho | University of San Francisco | D1 | | De La Salle HS | 2016 |
| Ryan | Perez | Montana St. University Billings | D2 | | Petaluma HS | 2016 |
| Sepehr | Agnese | Kenyon College | D3 | | Marin Catholic HS | 2016 |
| James | Finn | Middlebury College | D3 | | Tamalpais HS | 2016 |
| Dempsey | Roggenbuck | Linfield College | D3 | | Marin Catholic / Prolific Prep | 2016 |
| Gabe | Knight | University of Saint Katherine | NAIA | | Windsor / Santa Rosa JC | 2016 |
| Landon | Courtman | Cal State Maritime | NAIA | | Healdsburg HS / Westmont / Santa Rosa JC | 2017 |
| Jordan | Jackson | Warner Pacific University | NAIA | Junior | Tamalpais HS / College of Marin / College of Alameda | 2017 |
| Joey | Potts | CSA Steaua (Romania) | PRO | | Petaluma HS / College of Marin / Oregon State / Oregon Tech | 2017 |
| Ethan | Menzies | Colorado Mesa | D2 | RS Junior | Half Moon Bay / Cushing Academy | 2018 |
| Aaron | Porcil | Converse University | D2 | | Vanden HS / Sonoma State / Santa Rosa JC | 2018 |
| Brandon | Beckman | University of Chicago | D3 | | St. Ignatius College Preparatory | 2018 |
| Noah | Bice | Wentworth Institute of Technology | D3 | | Archie Williams HS | 2018 |
| Landon | Gregg | Chapman | D3 | Junior | Redwood HS / El Camino College | 2018 |
| Sam | Kinney | Colorado College | D3 | | Marin Academy | 2018 |
| Matt | Redmond | Denison | D3 | | St. Ignatius College Preparatory | 2018 |
| Nik | Burns | Mendocino College | JUCO | Sophomore | Elsie Allen HS | 2018 |
| Justin | Smith | Santa Rosa JC | JUCO | Sophomore | Windsor HS | 2018 |
| Mitch | Hippauf | Simpson University | NAIA | | Vintage HS | 2018 |
| David | Jones | Georgia Southern University | D1 | Junior | Grant HS / Sacramento State / Panola College / Indian Hills CC | 2019 |
| Viktor | Rajkovic | Seattle University | D1 | Junior | Branson / Golden State Prep | 2019 |
| Emmanuel | Adeoye | Texas A&M Commerce | D2 | | Salesian College Preparatory / Angelina College | 2019 |
| Damiri | Lindo | University of Nebraska - Kearney | D2 | Junior | Saint Mary's College HS / Golden State Prep / Holy Names | 2019 |
| Garrett | Siebels | Dominican University | D2 | Senior | Casa Grande HS / Santa Rosa JC | 2019 |
| Quinten | Vermuelen | Dominican University | D2 | | Analy HS | 2019 |
| Aidan | Demian | Oberlin College | D3 | | The Branson School | 2019 |
| Sean | Ingoglia | Union College | D3 | | Stuart Hall / Salisbury School | 2019 |
| Joe | Silveira | Franciscan University of Steubenville | D3 | Senior | Berean Christian / San Diego Christian / Solano College | 2019 |
| Isiaha | Garza | Mendocino College | JUCO | | Elsie Allen HS | 2019 |
| Donniel | Johnson | Mendocino College | JUCO | | Oakland Tech HS | 2019 |
| Trey | Chapman | Essex Rebels (England) | PRO | | Healdsburg HS / Hawaii Pacific University | 2019 |
| Shakir | Howard | South Bay Flash (TBL) | PRO | Junior | Fairfield HS / Napa Valley College / Southern California Leadership University | 2019 |
| Lucas | Saleh | CS Maristes (Lebanon) | PRO | | Prolific Prep / Feather River College / Univ. of Buffalo / Belmont Abbey College | 2019 |
| Jack | Greenwood | Linfield College | D3 | Junior | Marin Catholic | 2020 |
| Peyton | Mullarkey | Pomona-Pitzer | D3 | Junior | The Branson School / Golden State Prep | 2020 |
| Blake | Murray | College of Marin | JUCO | | Vintage HS | 2020 |
| Dylan | Hayman | University of Incarnate Word | D1 | Junior | Healdsburg HS | 2021 |
| Nick | Greenwood | George Fox | D3 | Junior | Marin Catholic | 2021 |
| Sean | McCarthy | Chapman University | D3 | Junior | Tamalpais HS / Tilton School | 2021 |
| Lucq | Anderson | College of the Redwoods | JUCO | Sophomore | Marin Catholic | 2021 |
| Devin | Mims | College of Marin | JUCO | Sophomore | Sacred Heart Cathedral / Tamalpais HS | 2021 |
| Brayden | Greenlee | Carolina University | NCCAA | | Napa HS / Golden State Prep | 2021 |
| Joaquim | Arauz-Moore | Gonzaga University | D1 | Freshman | The Branson School / SoCal Academy | 2022 |
| Will | Heimbrodt | Seattle University | D1 | Freshman | Archie Williams HS / SoCal Academy | 2022 |
| Dom | Girish | Colorado School of Mines | D2 | Sophomore | Sonoma Valley HS | 2022 |
| Nolan | Bessire | Bowdoin | D3 | Sophomore | Montgomery HS | 2022 |
| Noah | Deitch | Lake Forest College | D3 | Sophomore | Marin Catholic HS | 2022 |
| Will | Logue | Bowdoin | D3 | Sophomore | Santa Rosa HS | 2022 |
| Charles | Preston | Occidental College | D3 | Sophomore | Archie Williams HS | 2022 |
| Charlie | Treene | Pomona-Pitzer | D3 | Sophomore | Redwood HS | 2022 |
| Isidro | Garcia | College of the Redwoods | JUCO | Freshman | Santa Rosa HS | 2022 |
| Andrew | Pengel | Santa Rosa JC | JUCO | Sophomore | Rancho Cotate HS | 2022 |
| Salim | Arikat | Menlo College | NAIA | Freshman | Petaluma HS / SoCal Academy | 2022 |
| Drew | Krilich | University of Puget Sound | D3 | Freshman | Cardinal Newman HS | 2023 |
| Kaleb | McKenzie | College of Marin | JUCO | Freshman | Montgomery HS | 2023 |
| Gavin | Reid | Mendocino College | JUCO | Freshman | Analy HS | 2023 |
| Gavin | Vogensen | Santa Rosa JC | JUCO | Freshman | Cardinal Newman HS | 2023 |
| First Name | Last Name | School / Pro Team | Division | Year | HS / Previous Schools | HS Class |
| --- | --- | --- | --- | --- | --- | --- |
| Brock | Bowers | University of Georgia - Football | D1 | Junior | Napa HS | 2020 |
| Austin | Ehrlicher | Boston Red Sox | PRO | | Elsie Allen HS / Santa Rosa JC | 2021 |
| Jacob | Sharp | Weber State - Football | D1 | Junior | Bethel HS | 2019 |
| First Name | Last Name | School / Pro Team | Division | Year | HS / Previous Schools | HS Class |
| --- | --- | --- | --- | --- | --- | --- |
| Dilen | Miller | Georgia State University | D1 | Committed | Arizona Compass Prep | 2024 |